MENU
We are a proudly independent café with a team of people who are passionate about welcoming hospitality, good local food and great coffee. Wherever we can we use the best local produce that Herefordshire has to offer. Head Chef Fran and his team make all our food fresh daily in our busy kitchen.
COFFEE
We are lucky enough to use James Gourmet Coffee roased in nearby Ross-On-Wye and have dedicated and fully trained baristas pouring perfect shots and beautiful latte art on our La Marzocco machine. We work with Peter James to bring you the best seasonal coffees all year round.
Our espresso for spring summer 2019 is a Columbian PrimaVera, just ask if you would prefer Skimmed, Semi Skimmed, Coconut, Almond or Oat Milk. For those who would like something without caffeine we have a co2 de-caffeinated espresso, Minor Figures Chai and during the winter months we also make our own Golden Turmeric Milk.
£

2.50
FLAT WHITE (80Z)
Double Shot of espresso topped with steamed milk
GIBRALTA (5OZ)
A shorter coffee with steamed milk
£

2.00
AMERICANO (60Z)
Single espresso topped with hot water, with or without cold milk
£

2.20
CAPPUCCINO (60Z)
Single espresso topped with steamed milk and foam
£

2.20
LATTÉ (80Z)
Single espresso topped with steamed milk
£

1.50
ESPRESSO
Single shot of coffee
£

2.60
MOCHA (80Z)
Single espresso and chocolate with steamed milk
£

2.20
ZUMA DARK HOT CHOCOLATE
£

2.80
ICED CHAI LATTE
Made with Minor Figures Chai syrup and Oat M*lk
£

2.50
TURMERIC LATTE (seasonal)
Homemade Golden Milk made with fresh ginger, turmeric and spices infused in coconut and almond milk
£

1.90
CLIPPER ORGANIC TEAS
Lady Grey, Green, Rooibos, Earl Grey, Camomile,Peppermint, Fruit Tea, Decaf
£

3.00
B FRESH COLD PRESSED JUICE
GREEN WARRIOR/GOLDEN GLOW/BERRY BOSS
£

3.00
SANDOWS COLD BREW COFFEE
£

1.90
CAWSTON PRESS RHUBARB & APPLE JUICE
£

1.90
CAWSTON PRESS SPARKLING CLOUDY APPLE JUICE
£

1.90
SAN PELLEGRINO CANS
Limonata / Aranciata / Pompelmo / Aranciata Rosso
£

1.90
FROBISHERS ORANGE JUICE
£

1.90
LOCAL APPLE JUICE
Cox and Bramley Apple Juice
£

1.90
BUNDABURG GINGER BEER
£

1.50
CAN OF COKE / DIET COKE
£

1.40
STILL OR SPARKLING CELTIC VALE MINERAL WATER
£

1.90
BOTTLEGREEN ELDERFLOWER PRESSE
JUNE 2019 LUNCH MENU
HOMEMADE PORK, CHEDDAR AND JALAPENO SAUSAGE ROLL
Served with Tyrells Crisps and Summer Slaw
7.50
BUFFALO MOZZARELLA, HOMEMADE BASIL PESTO AND TOMATO SOURDOUGH TOASTIE

6.50

QUICHE AND SEASONAL SALADS

We bake our quiches fresh every morning, the ingredients change seasonally and are served with our mix of fresh salads.
£7.00


SEASONAL SALAD BOWLS


Our ever changing selection of local, fresh and healthy salads are all prepared daily and displayed in our counter.
Small - £4 .50/ Large - £5.50 / Extra Spoon £1



CHESTNUT RISSOLE AND SEASONAL SALADS

We also offer a vegan and gluten free Chestnut Rissole with Salad, and we can advise on other special dietary requirements.

SANDWICHES
Choose from Sourdough, White, Wholemeal, Granary, Gluten Free
£

4.00
FREE RANGE EGG MAYONNAISE & CRESS (V)
£

4.00
CHEDDAR CHEESE & OUR APPLE CHUTNEY & LEAVES
£

5.00
NEIL POWELL HAM AND HOMEMADE RED CABBAGE COLESLAW
£

5.00
CORONATION CHICKEN & MIXED LEAVES
£

4.50
BRIE, CRANBERRY & LEAVES (V)
Add Neil Powell Bacon £1.00
£

4.00
TUNA MAYONNAISE & CUCUMBER
£

5.00
CHICKEN COCONUT MAYO SWEET CHILLI & MIXED LEAVES
£

4.50
CHESTNUT RISSOLE, SWEET CHILLI SAUCE, LEAVES
£

5.00
SMOKED SALMON, CREAM CHEESE, ROCKET WITH LEMON JUICE & BLACK PEPPER
BAKED POTATOES
Baked in Olive Oil and Maldon Sea Salt
£

5.50
CHEDDAR CHEESE & COLESLAW (V)
£

5.50
BAKED BEANS & CHEDDAR CHEESE (V)
BREAKFAST AND BRUNCH
Served until 11.30am weekdays
£

4.00
BACON OR SAUSAGE SANDWICH
We use local Neil Powell Bacon and Tudge's Sausage.
£

3.50
HOMEMADE HONEY AND SUNFLOWER SEED GRANOLA
With Local Yoghurt and Homemade Berry Compote
£

3.50
PORRIDGE
With cinnamon, honey and blackcurrant jam.
£

3.50
VEGAN PORRIDGE
With coconut milk, maple and blueberries
£

2.00
TOASTED HOMEMADE BARA BRITH
Our own homemade tea bread, made without Fat, delicious served toasted and buttered.
£

7.50
FULL ENGLISH BREAKFAST
Tudge Sausage, bacon, grilled tomato and field mushroom, baked beans and your choice of fried or scrambled LOCAL FREE-RANGE eggs and white, wholemeal or granary toast.
£

6.50
VEGETARIAN BREAKFAST
Chestnut Rissole, grilled tomato and field mushroom, baked beans and your choice of 2 x fried or scrambled local free-range eggs and white, wholemeal,granary or gluten free toast.
£

4.50
FRIED OR SCRAMBLED LOCAL FREE RANGE EGGS
On two slices of white, wholemeal or granary or gluten free toast.
Saturday Brunch
served until 3pm Saturdays
£

7.00
FRENCH TOAST
With Bacon and Maple Syrup or Homemade Berry Compote and Vanilla Mascarpone
£

7.50
GREEN PANCAKES
Spinach Pancakes with a lime and chilli butter served with Avocado, Fried Eggs and Rocket and Sourdough Toast
£

8.00
SALMON, AVOCADO, EGGS
Smoked Salmon, Avocado and Scrambled Eggs on Sourdough Toast
HOMEMADE CAKES
We are proud to say that all our cakes are baked in our little café by Helen, our very talented baker, she creates the mix of traditional and modern cakes that fill our counter each day, there is always something new and we try to have something vegan and gluten free on the counter each day too… try one of our famous salted caramel brownies or Nutella cookies or go for a more traditional bara brith tea bread toasted with butter, there's something for everyone!
£

2.50
LEMON CRUMBLE CHEESECAKE SLICE
£

2.80
GLUTEN FRE ROSE AND
PISTACHIO
VEGAN POWER BALLS WITH DATES, COCONUT
AND PISTACHIOS
£

2.50
RASPBERRY, PISTACHIO AND OAT BAR (N)
£

2.50
NUTELLA SANDWICH COOKIE (GF/N)
£

2.30
ESPRESSO, HAZELNUT AND MASCARPONE SPONGE (N)
£

2.50
SALTED CARAMEL BROWNIE
(sample menu, our cakes change daily and seasonally)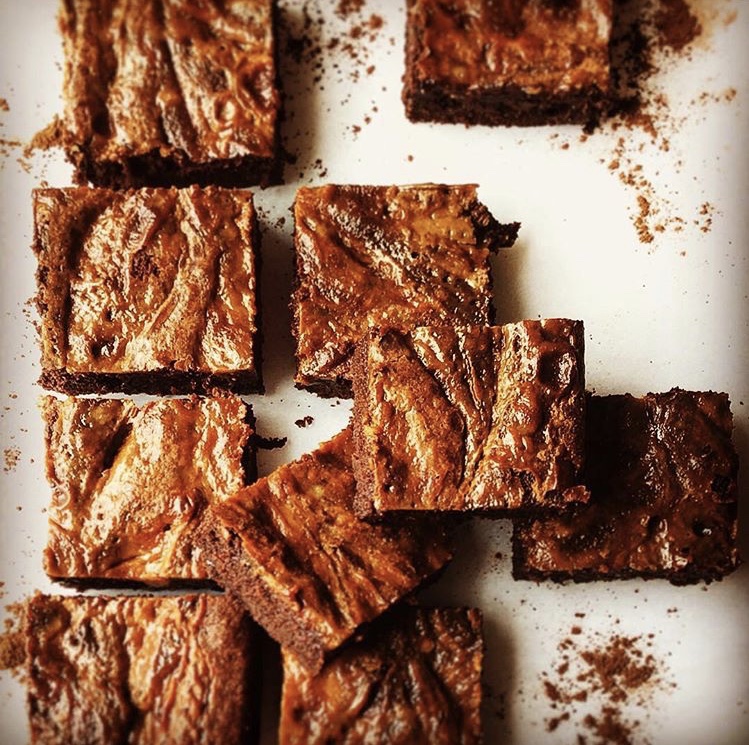 Eat In or Take Away
Enjoy our homemade food, fantastic coffee and gorgeous cakes upstairs in our newly expanded cafe, or order at the counter to Take-Away, perfect for lunch or coffee on the go.
We also offer outside catering, please e-mail us at kingstkitchen@gmail.com for a menu and further details...
ALLERGIES
We handle all allergens in our kitchen and cannot guarantee any of our dishes are allergen-free.
All of our staff are trained that in the event of a customer mentioning they have an allergy, the customer should be directed to our Allergen Sheet. This lists every item on our menu with the allergens clearly displayed. We keep a copy of the Allergen Sheet at the counter available to ask for anytime.
If you have an allergy we ask that you check the Allergen Sheet before you order. Even if you checked it on your last visit, we occasionally change our recipes and this is the only way to make sure you are receiving the most up-to-date information. All our food is made here in our small and busy kitchens and when ingredients are in the same kitchen it is impossible to guarantee that your dish will be 100% allergen-free.
Which is why, if you do have a serious allergy, we have to ask you to make that known to us before dining so we can provide you with information to help you make safe choices.